New metal 3D printer at the Environmental Campus Birkenfeld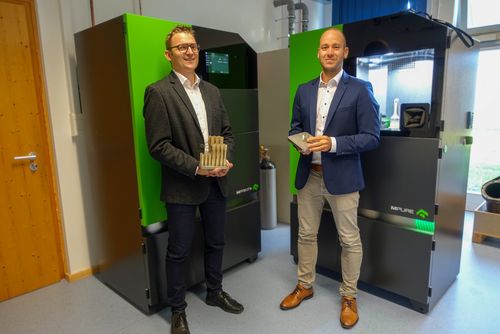 The equipment of the laboratories for additive manufacturing at the Institute for Business and Technology Management (IBT) of the Environmental Campus Birkenfeld is being expanded by another metal 3D printer. The new manufacturing machine was purchased for the INTERREG project ComPrintMetal3D "Application-related comparison of different 3D metal printing processes", which is coordinated by the Environmental Campus Birkenfeld. The machine is one of the first in the world to be delivered by the manufacturer One Click Metal. This will enable the project partners and interested companies to get to know the production possibilities and limits with the new type of printer.
Within the project, a guideline is being developed to support small and medium-sized enterprises in the Greater Region in particular in getting started with metal 3D printing. In addition to material characteristics and accuracies, the guide will also contain design information and manufacturing options for the production of additively manufactured metal components. Filament-based as well as powder-based manufacturing options will be used at different locations in the Greater Region.
"The new powder-based metal printer strengthens the laboratory at the Environmental Campus and offers a great opportunity to collaborate even more with regional companies" says Prof. Wahl, the head of the working group.
The new 3D printer produces the desired component layer by layer from powder through a laser-based melting process. The manufacturing process opens up new possibilities: the production of components that are particularly light, the reduction of the number of components for assembly processes or the production of structures that are difficult or impossible to produce with conventional manufacturing processes.
Through the Institute for Business and Technology Management (IBT), there is the possibility of cooperation with companies from the region. Interested companies are welcome to contact the IBT for on-site visits and an exchange regarding the new system and other additive manufacturing topics.