Environmental Campus develops sustainability strategies
Federal Chancellor Angela Merkel gave the kick-off signal on 29 May 2016 in Berlin: In order to promote the dissemination of Sustainable Development Goals (SDGs) and sustainability strategies and to network the actors, the German Council for Sustainable Development (RNE), at the request of the Federal Chancellery, has proposed four Regional Network Units for Sustainability Strategies (RENN) for funding. The project has an initial duration of five years and will end in 2021. It is funded by the Federal Government with 10 million EURO.
The Environmental Campus Birkenfeld of Trier University of Applied Sciences is the only German University to be a consortium partner in a RENN.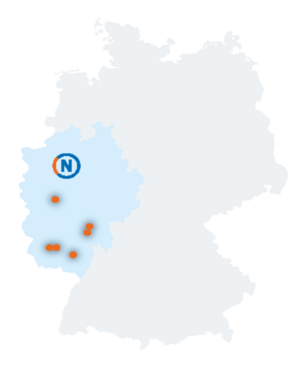 The Regional Network Centre for Sustainability Strategies West (RENN.west) promotes communication on sustainability concepts and helps shape sustainability processes in North Rhine-Westphalia, Hesse, Rhineland-Palatinate, Saarland and at the federal level with discourse results. Our goal is to make sustainable development a living practice in our region through active networking and information work. With a total of seven partner organisations in the federal states of Hesse, North Rhine-Westphalia, Rhineland-Palatinate and Saarland, we have an extensive network and a broad range of expertise at our disposal to promote socio-ecological transformation in our region. Under the sponsorship of the Landesarbeitsgemeinschaft Agenda 21 NRW e.V. (LAG 21 NRW), the Arbeitsgemeinschaft Natur- und Umweltbildung (ANU) Hessen e.V., the Energieagentur Rheinland-Pfalz GmbH, the Entwicklungspolitische Landesnetzwerk Rheinland-Pfalz (ELAN) e.V., the Europäische Akademie Otzenhausen (EAO) gGmbH, Germanwatch e.V. and the Environmental Campus Birkenfeld of the Trier University of Applied Sciences cooperate for the work of RENN.west.
The central office of the network is located in Bonn. The office for the subnet Rhineland-Palatinate/Saarland is located at the Environmental Campus. The contact person is Michael Matern M.A., who, in addition to his duties at RENN.west, is the coordinator for the part-time Master's programme "Sustainable Change - From Knowledge to Action".
The participation in RENN.west offers students of the Environmental Campus numerous opportunities for cooperation, whether through project work, Bachelor's or Master's thesis. The direct connection to the strategy development in Germany, the federal states and beyond that also numerous municipalities enables a further development of the sustainability profile of the university towards numerous actors in civil society, science, economy and public authorities.