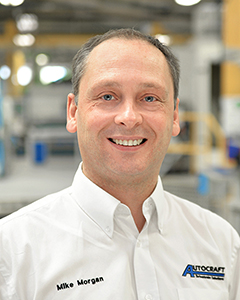 Mike Hague-Morgan, Autocraft Solutions Group Ltd.
Michael Hague-Morgan is a co-owner of Autocraft Solutions Group Ltd which is a group of UK based manufacturing companies with sites in Grantham, Wellingborough and Birmingham. Autocraft Drivetrain Solutions in Grantham is Europe's largest independent engine remanufacturer and supports leading automotive brands such as Jaguar Land Rover, Ford, Volvo, Aston Martin and JCB on a global basis by providing them with new and remanufactured engine assemblies and related powertrain engineering services. The sites at Wellingborough (Autocraft Machining Solutions) and Birmingham (Vertex Engineering Solutions) offer complex machined components, tooling and prototypes to a wide range of industries.
A keen "petrol head", Mike followed his hobby of rebuilding old Land Rovers into a BEng Mechanical Engineering degree at Cardiff University. Having initially started his career at Ford, Mike moved into the automotive tier 1 supply base working in the casting, forging and machining sector where he had roles in operations, engineering and sales at sites across the UK.
Mike was appointed Commercial Director of Autocraft in 2008, with a brief to turn the loss-making company around. This led to the MBO of the company from the US parent and Mike becoming a 45% shareholder. Since then Autocraft has grown from £8m to £30m turnover. In doing so, the company workforce has grown from 98 to over 200 people.
He is a keen supporter of developing engineering talent and champions the use of new technology in manufacturing businesses. Autocraft has been early adopters of Industry 4.0 technology which has radically improved the quality of products produced and the efficiency of processes to make them. This is despite Autocraft being an SME and having low volume and traditional "hand built" engine assembly processes. He is Regional Vice Chair of Make UK for the East Midlands, a Non-Exec Manufacturing Board Member of the Greater Lincolnshire LEP, Board Member of the SMMT and Chair of their Automotive Components Section. Mike also regularly supports Innovate UK, APC and KTN Workshops to promote Engineering, Manufacturing, Remanufacturing and the Circular Economy in the UK.